It IS Easy Being Green
At Ground Floor Partners, we take sustainability and environmental responsibility seriously. We make a concerted effort to reduce our carbon footprint by reducing our energy usage, recycling paper and other materials, and reusing as much as we can. Although we are a small company, we firmly believe that a large number of individuals and small companies, working together to change the environment and make the world a better place, can make a big difference.
Less Travel
Most management consulting firms waste an amazing amount of energy on travel. Many "Big Four" consultants spend as much as 70% of their time on the road. At Ground Floor Partners, we understand that "face time" is an important component of every client relationship. However, there are times when a trip can be replaced by a teleconference or a web conference, with no loss in clarity of communication. At Ground Floor Partners we use phone and web conferencing as much as possible. We estimate we save at least 10,000 miles of travel per consultant per year through the use of phone and web conferencing.
Mass Transit
We encourage the use of mass transit by distributing bus and train passes to our consultants. We use mass transit as much as possible whenever we travel locally, and when we visit clients in other cities.
Less Space
We share conference room and office space to minimize our office space footprint. That means lower amounts of air conditioning, heating, janitorial services, furniture, and electricity per person.
Improved Work-Life Balance
We encourage our consultants to work at home as much as possible. This reduces our need for office space, reduces the amount of time they need to travel, and leads to a much healthier Work-Life balance.
Recycle and Reuse
Whenever we can, we recycle plastics, cans, and paper in our office. We buy recycled paper products and recycle old office equipment (printers, computers, telephones, etc.) by dropping them off at our neighborhood recycling center. Almost everyone can reduce their carbon footprint by taking simple steps like these.
Increase Transparency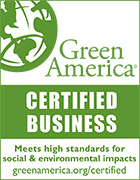 We avoid greenwashing ourselves and strongly encourage our clients to do the same. Greenwashing hurts our economy and impedes environmental progress. Almost every business I can think of claims they are "green". But only a small percentage are even trying. The most important thing is to be honest and make a real effort. Don't follow BP's example.